Conference proceedings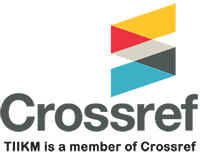 All accepted abstracts for the 4th International Conference on Women's Studies 2018 will be published in the conference abstract book with ISBN 978-955-4903-98-2. All full papers will be accepted through a double blind reviewed process and will be published electronically with ISSN in proceedings with a DOI Number (DOI prefix: 10.17501).
We will submit the proceedings to be indexed in the Thomson Reuters, SCOPUS, Google Scholar for possible Indexing.
Journal Publications
We provide you the opportunity to publish your paper with well-known publishers
Papers presented (oral presentations, virtual presentations and poster presentations) in the 4th International conference on Women's Studies 2018 being considered for possible publications in following journals. Best selected full papers will be published for free of charge.
International Journal of Gender and Entrepreneurship
ISSN: 1756-6266
Editor in Chief: Professor Colette Henry, Dundalk Institute of Technology, Ireland
The International Journal of Gender and Entrepreneurship has been placed within the top 4% of most-cited research in the Gender Studies field by Scopus.
Journal Link : Click here
Health Care for Women International
Print ISSN: 0739-9332
Online ISSN: 1096-4665
Editor in Chiefs: Eleanor Krassen Covan, Professor Emerita of Gerontology, School of Health and Applied Human Sciences, University of North Carolina Wilmington
Impact Factor: 2017 Journal Citation Reports® ranks Health Care for Women International 15th out of 41 journals in Women's Studies, 109th out of 157 journals in Public, Environmental & Occupational Health with a 2015 Impact Factor of 1.200 and a 5-year Impact Factor of 1.247 . ©2017 Thomson Reuters, 2017 release of the Journal Citation Reports®
Journal of Legal Medicine is abstracted/indexed in: CINAHL; CSA – Sociological Abstracts; Current Contents – Social and Behavioral Sciences; EBSCOhost Online Research Databases; Elsevier – EMBASE; Family Index; H.W. Wilson – Index to Legal Periodicals and Books; HealthSTAR Database; Index to Legal Periodicals; ISI – Current Contents/Social and Behavioral Sciences; ISI – Science Citation Index; LegalTrac; Lexis-Nexis; MEDLINE; MedWebPlus; National Patient Safety Foundation; OCLC FirstSearch; PsycINFO; Research in Higher Education Abstracts; Social Science Research Network (SSRN); Social Science Citation Index and WESTLAW.
Journal Link: Click Here

Journal of International Women's Studies (Special issue)


ISSN: 1539-8706
Executive Editors: Prof: Diana Fox & Prof: Cami Sanderson
Journal Link : Click here
Abstract & Full Paper Guidelines
If you have any issue regarding Publication please try our FAQ or you can send inquiries to the shanika@tiikm.com at any time.