Conference proceedings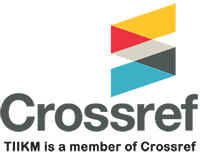 All accepted abstracts for the 4th International Conference on Women's Studies 2018 will be published in the conference abstract book with ISBN. All full papers will be accepted through a double blind reviewed process and will be published electronically with ISSN in proceedings with a DOI Number (DOI prefix: 10.17501).
We will submit the proceedings to be indexed in the Thomson Reuters, SCOPUS, Mendeley, Google Scholar and CiteULike for possible Indexing.
Journal Publications
We provide you the opportunity to publish your paper with well-known publishers
Papers presented (oral presentations, virtual presentations and poster presentations) in the 4th International conference on Women's Studies 2018 being considered for possible publications in following journals. Best selected full papers will be published for free of charge.
International Journal of Gender and Entrepreneurship
ISSN: 1756-6266
Online from: 2009
Publisher Emerald
Special Issue No
Editor in Chief/s Professor Colette Henry, Dundalk Institute of Technology, Ireland
Impact Factor
Journal Link : Click here
The International Journal of Gender and Entrepreneurship has been placed within the top 4% of most-cited research in the Gender Studies field by Scopus.
American Sociological Association
Australian Business Deans Council
Australian Research Council (ERA Journal List)
ReadCube Discover
Scopus
Abstract & Full Paper Guidelines
If you have any issue regarding Publication please try our FAQ or you can send inquiries to the shanika@tiikm.com at any time.