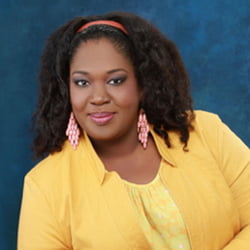 Head – Institute for Gender and Development Studies
The University of the West Indies, St. Augustine Campus
West Indies
Tittle: "Championing Gender Justice through Communication: Unveiling the Nuances of Gender-Based Violence and Social Identities in the 21st Century"
Dr. Sue Ann Barratt is Lecturer and Head at the Institute for Gender and Development Studies, The University of the West Indies, St. Augustine Campus. She is a scholar of human communication and gendered expression and interaction. Dr. Barratt interrogates gender-based violence, especially as it manifests through social discourse. In addition, she explores the nuance and significance of social identities, such as race/ethnicity, for example through her most recent book, "Dougla in the 21st Century: Adding to the Mix". In general, Dr. Barratt's research extends to human communication conflict, social media use and its implications, mental health management and its implications for learners, gender and climate adaptation/resilience, and Carnival and cultural studies. She is dedicated to building gender responsiveness and gender justice within society.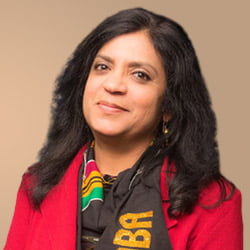 Westfield State University
USA
Tittle: "Change-makers: Women's Studies Scholar-Activism Across the Disciplines"
Prof. Shoba Rajgopal is a distinguished academic and a passionate advocate for gender equality and social justice. She currently serves as the President of our South Asian Feminist Studies Caucus within the National Women's Studies Association (NWSA). She is the chair of the Department of Ethnic and Gender Studies at Westfield State University in Massachusetts, where she teaches courses on gender, race and sexuality. With a rich academic background, Prof. Rajgopal holds a Ph.D. in Communication (Media Studies) and an Interdisciplinary Graduate Certificate in Women & Gender Studies from the University of Colorado at Boulder. Additionally, she boasts two Master's Degrees, one in English and the other in Communication, and is proficient in five languages. She has also served for 3 years as the Coordinator of the Women's Studies Program at Westfield State University and is one of the founding faculty of the EGST Dept. Her research and teaching areas are in postcolonial and transnational feminist theories, Asian queer movements and media representation, South Asian cinema, and globalization, religion, and gender conflicts. Dr. Rajgopal has worked as a TV News Correspondent based in Bombay (Mumbai), India, for the Indian TV networks and won plaudits for her news reportage. She has also done in-depth news reports for Indian TV and CNN International on political and social issues in India, focusing on the rights of women and indigenous communities.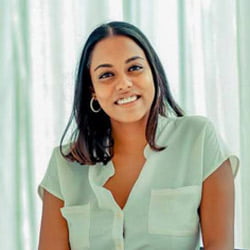 Social Activist
Senior Communications Manager
IREX Sri Lanka
Tittle: "Activism for Policy Reform"
Anuki Premachandra is the Senior Communications Manager at IREX Sri Lanka and a Strategic Communications consultant with a background in public policy. She studied International Relations at the University of London and has experience working at Advocata Institute and the World Bank in Sri Lanka. At Advocata, she led campaigns for public policy reform, notably reducing taxes on sanitary napkins from 101% to 52%. Anuki also advocated for easing barriers for micro-enterprises in the country. She's received international training on policy reform advocacy, won the John Blundell Elevator Pitch Competition in 2019, contributed to global publications, and was recognized in Cosmopolitan's "35 under 35" in 2020. Her work has been featured on Reuters and the Cato Podcast.